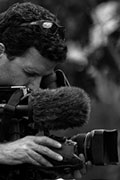 In order to give you a general idea, without wasting much time, the videogallery and photogallery sections offer access to a random selection from all the contents of the web site, and are different each time you access them. The actual access archive holds more than 2 GB of memory.
Each photograph and sequence has its own story, its own moment within an expedition and production.
All the documentation and associated emotions, above all with regards to the photo section, wouldn't exist if not for the experiences I have shared with the highly specialised photographers I have travelled with.
Some of these professionals from whom I have learnt a great deal about photography and the art of emotive storytelling through the use of images are, to mention but a few: Paolo Petrignani, Orazio Truglio, Alberto Alquati, Angelo Siri, Fabrizio Jelmini, Marco Stoppato, Adriano Penco, Massimo Arese, Peter Taylor, Arturo Souza, Andrea Molinari, Dino Bonelli, Francesco Lo Mastro, Nino Idini and Tullio Bernabei.
Enjoy browsing through the galleries!